"Yep, Mr. Butler, that's the kind I want, true Longhorns. Always wanted to raise a few on my ranch in Idaho. Never could find any up there. Sure do appreciate your letting me pick out these four good heifers and this son of Thomas. Much appreciate your throwing in that fine steer on the deal also," drawled "old time cowman" Virgil Shinn, as he was preparing to leave the Milby Butler Ranch on April 21, 1966.

These were some of only a handfull of Milby's pride and joy, a herd that he never sold before his death. Milby had found a common "cowman feeling" with Virg Shinn and had struck up a deal after several days of visiting and touring the pastures of one of the greatest Longhorn herds of all time.

Virg realized the great stroke of fortune that he had walked into. He shook Milby's hand and thanked him again as he left for his long trip home to Idaho, feeling mighty proud of his pickup load of yearling Longhorns. Virg always said that the trip home took no more gas than the trip down as the Longhorns were narrow enough to split a raindrop and couldn't have been any wind resistance at all. Virg was always strong and set in his enthusiasm for Longhorns, though his neighbors often made kidding comments like "that's sure a lot of money to pay for horns and hides."

Virg kept building his herd and making a profit as time passed on. He took the time in the late sixties to go to the Harry Pon sale in Fallon, Nev., and buy several pairs. Pon was known for being the first large Longhorn breeder in the Northwest to purchase top cattle at the Wichita Refuge Sale. And he was the buyer of the high selling individual on occasion.

With cattle from the Butler herd and the Wichita Refuge, Virg began building a small but superior bloodline herd of Longhorn cows. He later was successful in adding blood from the herds of Chico Wright, Walter Scott, and J.L. Bell, through the assistance of TLBAA Director, Dan Emery.

Virg was one of the founders and original directors of the Western America Texas Longhorn Association of America remaining on the board until his death in 1981. Since then, his daughter, Jean Shinn, has carried on the Longhorn tradition at the Quarter Circle V Ranch and is now a WATLA director.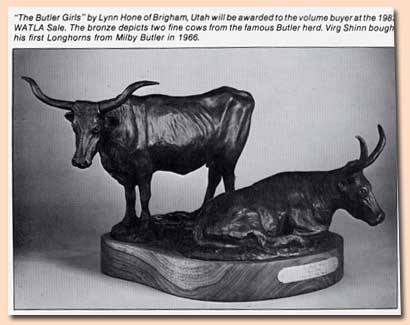 Two of the original Butler cows and several of their daughters ended up in the Tom A. Davis herd in Northern Utah. In the summer of 1982 the owner introduced Mr. Lynn Hone of Brigham City, Utah to the cattle and encouraged the sculptor to immortalize them by doing a bronze of one of them. Hone was so impressed and engulfed in the beauty of the breed, and especially the Butler cows, that he spent countless hours studying, sketching, and photographing the "Butler Girls". He was with them so much that they soon came to accept him as part of the A.I. herd; they often sniffed and wandered by him as if to say, "Oh, it's just Lynn here again."

Hone's final bronze piece did not include just one, but rather both of the "Butler Girls" in a combination of one lying down and the other positioned in a stance typifying the Texas Longhorn majesty and grace. His work shows the intensity of study and accuracy of every detail of a traditional Longhorn cow. The "Butler Girls" appear so real that one would not be surprised to see them get up and stroll off looking for their calves.