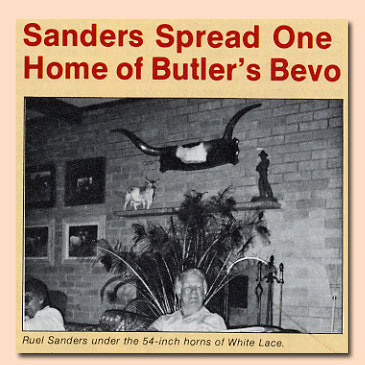 In the woods outside of Magnolia, Tex., live Ruel and Joyce Sanders, a very gracious and friendly couple whose roots are deep in the area and timber business of Magnolia. Their beautiful and comfortable home indicates the success of an intense life and business with the timber industry. Land, cleared of timber, has been seeded to permanent pastures and developed with a cattle operation consisting of a Longhorn / Brahma crossbred herd, along with the registered Texas Longhorn herd. Some fascinating results of the cross are evident from the conformation and color, Longhorn / Brahma is a great cross for the area, and for Ruel, who delights n showing them to his friends.


The Ruel Sanders Longhorn story started in about 1970 at the Hockley Auction near Magnolia, Tex. This was the day when six great Butler-branded cows and a big red-and-white Butler bull (Bevo) were selling. They had been sold shortly before at the Raywood Auction by Pauline Russell and then trucked to the Hockley Auction for resale. At the Hockley Auction, Ruel took a liking to the seven head of Longhorns and proceeded to purchase them and take them home to his own pasture. One of the original Butler-branded cows Ruel had was a white, over 54-inch-horned cow named White Lace. By her photo and her horns, which Ruel was hanging above his fireplace, one can see White Lace was one of the truly great cows of the breed. She showed all the great Longhorn characteristics plus good body capacity. White Lace also had tremendous twisting horns.


Lady Magnolia, a daughter of Bevo and White Lace, had long, twisty horns at two years of age in 1982. She was loaned to DeWitt Meshell to breed to Bevo at DeWitt's farm in Trinity, Texas. Unfortunately, Lady Magnolia died of complications in a trailer, in transit between Colorado and Texas.


When walking through the herd, which still consists of a few of the old Butler-branded cows and their offspring, one has to be impressed with the great twisty horns in abundance. Ruel built this herd of about thirty head of cows, plus heifers, from the original seven head. He used Bevo year after year, even back on his own daughters, the result being a uniform set of cows with impressive horns. The cows' coloring is similar to Bevo's - red sides, white top and bottom lines and white face.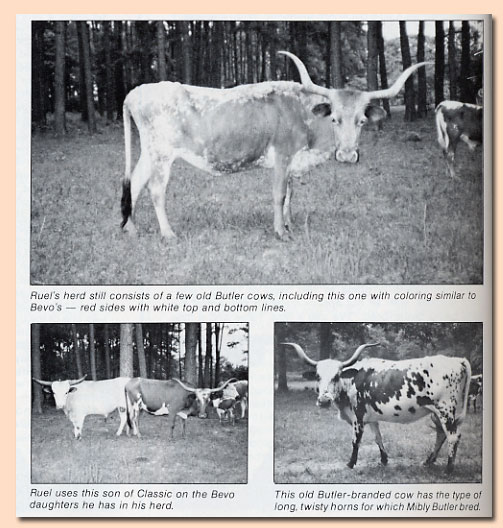 The last few years, a son of Classic has been used on the cows with the result being a fine set of white offspring. This herd has produced some outstanding Bevo offspring like Jumbo Horns, a Red McCombs senior herd sire; Easter, a Bud Adams purchase; and the previously mentioned Lady Magnolia, along with several others that have been sold.


Naturally, Ruel and Joyce are very proud of their outstanding herd. They enjoy the chance to show their cattle and to discuss the great Longhorn heritage with visitors. Ruel is a man who not only takes pride in his Longhorns and Brahma / Longhorn crosses but also in the area and the people with which he has grown up. Mr. Sanders will tell visitors that they not only have great cattle and timber in his country, but also the best cattle dogs around.


At the age of 20, Bevo passed away on April 17, 1983, at Robert Harrell's Ranch in Kaufman, Texas. Bevo was born in 1963 at the Milby Butler Ranch in League City, Texas.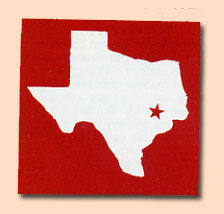 For those who wish to see what this outstanding bull can produce, take a trip to Magnolia, Texas. One will meet some great Longhorn people and see some great Butler cattle. Don't forget to as to see some pretty Longhorn / Brahma cross cattle. You will surely have a great time and a trip long remembered.