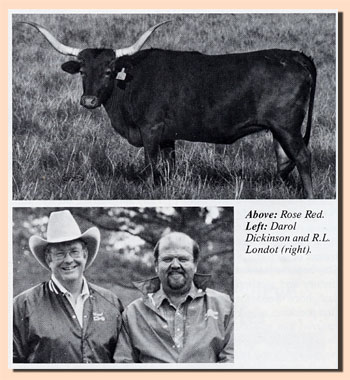 Rose Red, the undisputed highest-dollar producing cow in Texas Longhorn history bas been purchased from Dickinson Ranch, Calhan, Colorado by Ace Cattle Company, Folsom, Louisiana, for an undisclosed amount. Rose Red is a 1972 sleek-coated red cow of Partlow Butler breeding. She was bred and raised by Sam Partlow of Liberty, Texas and purchased by Dickinson Ranch in 1979 for their embryo transfer program. While at Dickinsons', she produced embryo calves of national renown. Sources estimate sales of her progeny, marketed privately and at public auction, total over $1,360,000.


Rose Red's better known offspring include Sweet 'N Low ($116,000), owned by Red McCombs, Dixie Rebel ($170,000), owned by Dave Evans, Dixie Hunter ($150,000), owned by Johnnie Hoffman and Ace Cattle Co., Sweet 'N Sassie ($40,000), owned by Charlene Semkin, Sweet Dreams, owned by Sam Saffery, Honolulu, Hawaii, Katz Meow, owned by Hoffman and Ace Cattle Co., Ranger's Rose, owned by Dickinson Ranch, Missing Link, owned by Two Creek Ranch and Final Touch, owned by Y.O. Ranch.


Rose Red sold carrying the service of Dickinson Ranch's senior herd sire, Texas Star, a son of Texas Rancher. R.L. Londot, owner of Ace Cattle Co. says, "Plans for Rose Red include giving birth to her natural calf, then extensive embryo transfer, and living at Folsom happily ever after."