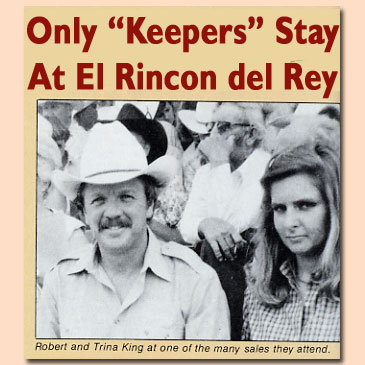 Experience is a commodity bought only with time, although when shared, it can become knowledge for those who haven't that experience. This explains why Robert and Trina King, when looking for knowledge about the Texas Longhorn breed, went directly to sources with vast experience in the field: Charles Schreiner III and DeWitt Meshell.


"Trina and I were planing on getting into the commercial purebred cattle industry," Robert recalls. "We had been interested in Longhorns, but didn't see them as anything more than a novelty animal. We really couldn't see a market for them, so we had resigned ourselves to raising a commercial breed until Charlie Schreiner) explained one night the history of the Texas Longhorns. I was very impressed with his knowledge of the breed, and especially what he felt the future held for them, so we bought ten of his top heifers. These were Y.O. Ranch keepers (best of the herd) so naturally we weren't disappointed." Since their initial purchase (in 1978), the King's El Rincon del Ray herd now numbers "38 or 40 select cows. These are all top animals, with each being of Y.O., Butler or WR breeding."


After getting their boost into the Longhorn business by Schreiner, the Kings met DeWitt, who provoked their interest in Butler breeding.


"I have spend countless hours with DeWitt digging through records and tracing down pedigrees of old cows, all the while gaining valuable knowledge of the Butler family herd. DeWitt had a tremendous impact on my life, not to mention our cattle operation. He gave me a completely unselfish education on Butler breeding, offering everything he knows about the cattle."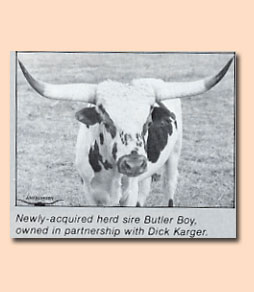 The Meshell influence is easily visible when looking at the El Rincon del Rey breeding records. Bulls such as Monarch, Bevo and Blue Horns have been used on the Kings' cows, apparently with unquestionable success. Other herd sires used have been Pecos 140 (recently sold to Harvey and Lois Puryear) who was '"the highest selling Texas Longhorn bull when we bought him," Classic "who we have A.I'd several cows to," and Butler Boy, purchased by the Kings and David Karger at the recent John Roberts dispersal sale.


Looking at the quality of the bulls and cows being used by Robert and Trina, one gets the idea that they're serious about their cattle program. "Our real goal with our herd is to produce the best Texas Longhorns possible," says Robert. "They've got to have good conformation, good reproduction records, mothering abilities and, without exception, a lot of horn" Even though this statement does denote seriousness, Robert adds that "I have been impressed more than anything by the pleasure these cattle have brought us. We've made many, many great friends, love working with the cattle, and at the same time, they're making us money. Texas Longhorns have probably made the biggest impression on me of any single thing I've been involved with." This commitment to the breed is supported by the monikers given to the King's other business interests, Longhorn Propane and Longhorn Country Store of Canyon Lake, Texas. (The ranch is also in the Canyon Lake area, near New Braunfels, Texas.)


The remainder of the King family, son, Justin, 14, and Roan, 11, also have an active part in the Longhorn operation. "Both the kids love the cattle, and each owns a number of them himself."


Besides raising Longhorns, Robert and Trina enjoy hunting and fishing, and also love to travel. "We really enjoy getting down to Mexico, to places like Conciun and Cozumel." (Who wouldn't?)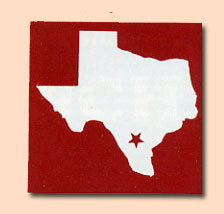 For the near future, as far as the El Rincon del Rey Longhorn herd is concerned, no traveling will be involved "We're planning on keeping our cows and building up the herd through extensive use of Butler Boy. We will be selling some embryos by him out of our best cows, for which we've already had inquiries from other breeders."


Robert and Trina have definitely made great strides since beginning their search for a cattle breed in which to invest. Which serves to prove a worthwhile point: a little experience shared with the right folks can go a long way.