"I really don't get out here and do this as often as I'd like," Michael McLeod explains as we ride along on a mule among his Longhorn herds. "These days, it's easy to find yourself too busy to take time out and just go do things you enjoy.

This, he says, gazing out at his colorful cattle and coastal pastures, "is what I've dreamed about since I was a kid." The "mule" we're mounted upon is actually a Kawasaki Mule 1000, an all terrain vehicle and a Gulf Coast Rancher's best friend. "My truck wouldn't stand a chance with all the rain we've gotten so far this year," Michael continues, referring to the record rainfall that has had east Texas and Louisiana submerged much of the spring.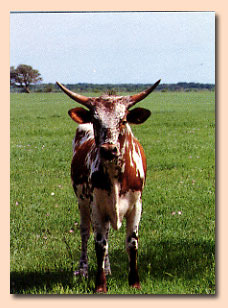 At M&M Longhorns, located just inland of the Gulf of Mexico near Vanderbilt, Texas, the rain comes with the territory, and the cattle need (literally) to "sink or swim."

"The only cattle that can make in on this salt grass are Longhorns," says Michael. "I let them survive on their own, and they've never disappointed me. They get out in the marsh and do what they have to do -- they know by now that I'm not going to pamper 'em. I guarantee you we'd be out of business with that the feed bill we'd run trying to raise "regular" cattle on the gulf.

Texas Longhorn cattle are indeed the McLeod family's business, so they have to do better than pay their own way.

"I decided a long time ago that I was going to be a rancher, and that all I am - a Texas Longhorn rancher. We make our living off these cattle, and I'm real proud of that since not many people can honestly say that anymore. We have to keep our overhead way down to show a profit, and with the Longhorns that's possible to do."

Michael grew up out side of nearby, Wharton, Texas, the first of four children, and dreamed of being a rancher at an early age.

"I'm not sure exactly why, but ranching has always been what I wanted to do. When I bought out Maribeth Vineyard's share of the ranch, here, it was like a dream come true- I finally owned my own ranch.

M&M Longhorns was actually formed in 1977, when Michael went into a ranching partnership with Maribeth Vineyard of Houston (the M&M of course, stood for Michael and Maribeth - or vise versa, depending on who you asked," Michael laughs). "We had a partnership arrangement where I worked as her ranch manager and herd consultant, and we put together a pretty good operation. She and I each had our own cattle, but we agreed on a common breeding philosophy and both loved the Butler bloodline of Longhorns."


Among the cattle that formed the M&M foundation herd were some of the last members of the Lepper strain of Butler cattle. "We started with some of the legendary Longhorns." Michael became a student of Longhorn bloodlines and history, which accounts for his deep appreciation of the breed. "Like everybody, I like a cow with some horns, more than anything else, are what sells around here. The beef end of the Longhorn business is fine - I don't have any argument with how anyone else wants to raise their cattle – but for my herd, I want folks to know exactly what kind of cattle these are."

When Maribeth Vineyard got out of the Longhorn business in 1988, Michael purchased her cattle and took over the lease on the ranch, which is part of a Mobile operation. Since assuming full responsibility for the ranch, Michael has developed an even greater enthusiasm for his Longhorn herd. "It's hard not to love these cattle, and when you depend on them for a living, you learn to appreciate everything that distinguishes them from all other breeds."

Another item, one far more important than a "love for Longhorns," has Michael McLeod enthused about his life these days. Last August 22, his wife, Jackie, gave birth to a son, Michael, Jr. "He's the real inspiration for everything I do now," Michael explains. "He gives my life a whole lot more significance than before, and now these cattle are working for him, too." Jackie and Michael wed in 1989, and Jackie has a son, Wesley, age 15, from a previous marriage.

"As I said, these animals are pretty much on their own out here, so it doesn't take very long to figure out if an animal can't cut it. If a cow isn't taking care of her calf, of can't keep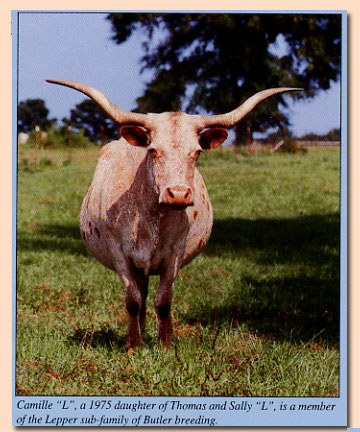 herself in shape, she's gone pretty quickly. I really can't afford to mess around when it comes to culling, and can't be too sentimental – although there have been some cows that have fooled me. They may look pretty poor, but there are some that will look rough their whole lives – through twenty calves."

Among the breeders and ranches Michael has built his herd from are Ace Cattle Company, Johnnie Hoffman, Blackie Graves, Dewitt Meshell, J.W. Isaacs - a veritable "Who's who" of Butler bloodline breeders. His steady private treaty business, along with consigning to selected auction sales, has kept M&M Longhorn on the map. The M&M herd numbers roughly 450 head, all of which are tended by the McLeod family.

"With this size herd, we really can't be looking after them on a 24-hour basis. When it comes time to work the herd, (which spreads out over 5 pastures), everyone gets involved since we don't have any ranch hands. That's another reason these animals have got to look out for themselves."

The Butler bloodline is still very popular among Longhorn enthusiasts, especially in the Gulf Coast/East Texas/ Louisiana region of the U.S. The breeding program in these parts tend to "stay the course" regardless of whatever fad may be in the wind of the breed.

"I would have to say that from what I've seen at the shows I've gone to, these beef judges are having way too much impact on people's breeding programs," Michael says. "These judges are not educated on what makes a truly good Longhorn, and some things which are desirable among Hereford or Santa Gertrudis cattle are things we don't want our cattle to have.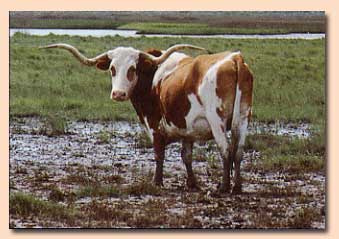 But how should we expect these commercial beef judges to know this? It's not their fault, but I do thin that the show circuit is being given more attention than it needs.

"A first place ribbon or championship bronze from some show doesn't mean a thing to the people I do cattle business with. I'm not saying that shows are bad, because they're not. They can draw attention to the bred, and serve as a showcase for the cattle. But when the breeders base how they develop their program on how the animals will do at some show, I think we've got a problem, especially when the cattle are being judged like any other commercial breed would be."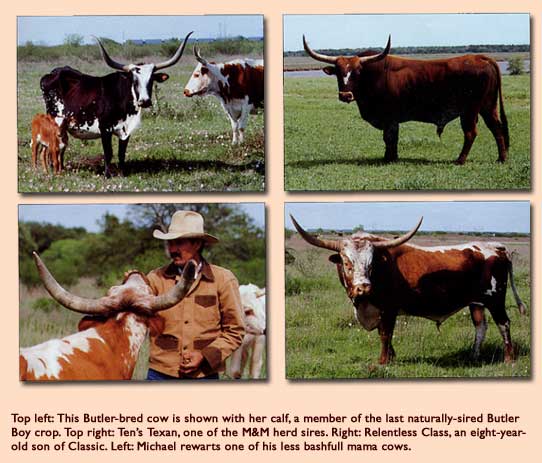 "I'm raising mostly Butler bred cattle, first ofall because they're the kind of Longhorns I like, and second, because they've kept us in business. The idea that the whole Butler blood-line is just a bunch if horns with no other redeeming qualities is a bunch of nonsense. Take a good look at my herd, or Blackie;s, or Ace's, or Johnnie's, and you'll see as good a bunch of all-around Longhorns as you'll find anywhere . While my herd has some Phillip's blood, some WR, some Wright, some Peeler, and probably every strain that's out there, I'll always go back to Butler because they've performed for me under some tough conditions. Among the herd sires Michael is using currently are Relentless Class, and 8-year-old Classic son, and Ten's Texas 453, a six-year-old son of He's a Ten.

"They're pretty good size bulls, and they're everything I want, says Michael. The Gulf Coast plain where the ranch in located is also home to an abundance of wildlife, including white-tail deer, wild pigs, wild turkey, and quail. There's plenty of good hunting right here on the ranch and the McLeods have to keep their eyes open for folks, "accidentally" making their way on the place.

"I still do a little hunting, and Wesley really enjoys it" Michael explains. "These days though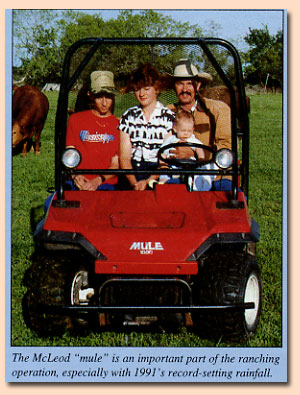 , I spend more time changing diapers than I do cleaning rifles," he smiles. "Someday, this operation will belong to the kids, so I'm doing the best I can to see to it that there will be something for them."

The Longhorns are doing their part as well, and from the looks of things, the long-term forecast for "Mickey and Michael" Longhorns calls for some Gulf Coast rain showers - along with lots of sunshine.