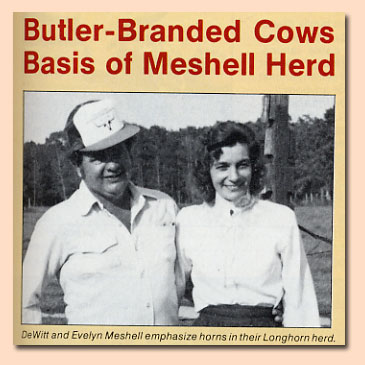 "Horns, horns, horns! I am a horn fanatic!" That is DeWitt Meshell's answer to the question "What impresses you the most about the Texas Longhorn?" With DeWitt's preference in mind, it's no surprise that the Longhorns raised on Meshell Farms (of Trinity, Tex., 100 miles north of Houston) are predominantly of the Butler bloodline - Butler, as in Bevo, Beauty, Classic and many other tremendously long-horned cattle.


DeWitt and his wife Evelyn first got into the Texas Longhorn business in 1968 with the help of none other than the late Milby Butler himself. "I worked with Milby for a while, helping with his herd," recalls DeWitt, "and I ended up buying 17 cows from him ( in partnership with brother Samuel). I have since developed a deep, deep appreciation for the Butler cattle and their influence on the entire Texas Longhorn breed."


DeWitt is now known as one of the top authorities on Butler breeding, and he takes great delight in sharing his knowledge with other breeders. "The thing I've enjoyed most about my involvement with these cattle is meeting people, talking with them, and exchanging stories and ideas on his fascinating Longhorn breed."


Meshell Farms is home to 160 head of Texas Longhorn females, with all but approximately 3 percent of the herd being Butler-bred. "We use a little Yates and a little WR, but it's basically Butler for us."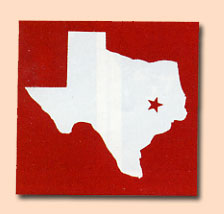 DeWitt has recently added a new twist to his cattle operation with his partnership with Melvin Jones of Houston in a small herd of Woods cattle. Developed by Grady Woods of Louisiana and his ancestors, these cattle are known for their outstanding Texas Longhorn characteristics, such as rapid horn growth with a "Texas Twist" and sound body conformation. "I'm very excited by the possibilities for crossing these Woods cattle with some of our Butler cows," says DeWitt. "The horns and the con for at ion should be just tremendous on their offspring. They're extremely fertile cattle, also. One of our Woods cows in embryo transfer at Rio Vista (in San Antonio) produced 13 eggs on her first flush.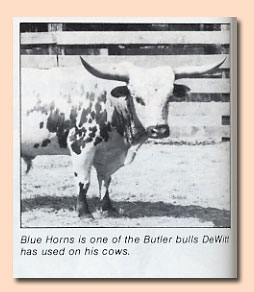 The Meshells also have seven cows (owned in partnership with Robert Harrell) and are involved in artificial insemination with frozen semen from Bevo (deceased) and his son Classic. "We're using Bevo semen quite a bit, and doing some extensive promotion on him and his heritage. We've also been using the Butler bulls Blue Horns, Lone Star Classic and Grand Finale.


The rest of the Meshell family (Rene, 22, Cherie, 17, Randy, 15) also take an active part in the cattle raising. "Cherie is really something," DeWitt says proudly. "She could ell any animal on this place to just about anybody."


As far as hobbies go, DeWitt acknowledges that "tending the Longhorns and making the drive back and forth between the ranch and Houston (where the Meshell's other business interest, DeWitt's Carpets, is located) take up about all of our time," but it's obvious that he wouldn't have it any other way.