The Longhorn Scene - October 1983


It's mighty tempting, when you're visiting Meshell Farms in East Texas, to plop beneath a tree, relax in the dappled sunshine filtering through the leaves,and soak up the soothing sounds of birds singing, insects buzzing, and Texas Longhorns grazing nearby. DeWitt and Evelyn Meshell's 432 acres near Groveton, Texas, looks more like a park than a cattle ranch. When they cleared the heavily timbered land, the Meshells carefully left some of the majestic pines and live oaks scattered across the pastures for shade. The trees complicate hay baling, but their aesthetic appeal more than makes up for any inconvenience.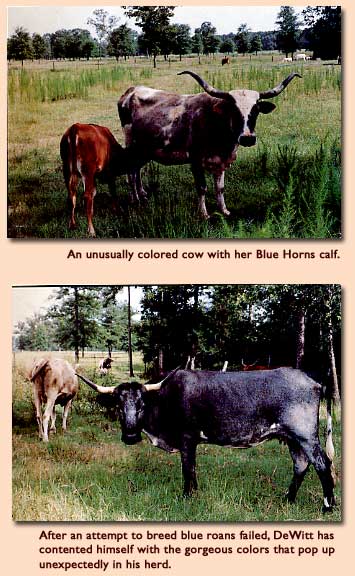 It would be rare indeed to see any of the Meshells relaxing beneath a spreading oak on a sunny day, however. Between managing a carpet and floor coverings business in faraway Houston and running 175 head of Butler-bred Texas Longhorns, these folks never stop. For years, DeWitt and Evelyn have been making the 200-mile round trip each day between their ranch near Groveton and their carpet store in Houston. It's like packing two full-time jobs into each 24-hour period.


"You can figure six-to-six on the road with the rest of the time on the farm," DeWitt said. He's been in he carpet business in Houston since 1956. Some relief from the grueling schedule may be in sight for the couple, pending a move of the store from Houston to nearby Diboll or Huntsville. The move will be the business' first since its establishment in '56.


DeWitt and Evelyn are excited at the prospect of having more time to spend with their family and with DeWitt's carefully nurtured herd of Butler-bred Texas Longhorns. They've had Longhorns since 1968. DeWitt has always been "horn crazy," he said, ever since he was a little boy growing up in Louisiana and then Texas, he bred for horns. It was only natural that he fell in love with Longhorns the moment he laid eyes on Milby Butler's herd north of Galveston. It was Butler's Brahman cattle, though, that first got his attention.


"I always did like Red Brahmans, I'd go down to Galveston and look off to the side of the road and see these petty cattle, Red Brahmans that belonged to Milby Butler," DeWitt recalled. "So I stopped one day to chat with him about his Brahmans, and he showed me Longhorns. That was in '61."


DeWitt knew he'd found the cattle of his dreams. Forty-inch horns, 50 inches, even 60 -- five full feet of glorious, spreading, sweeping horns. He had to have some of them.


DeWitt got his first 17 Longhorns from Butler in '68, then purchased seven more when the Butler estate was sold after Milby's death in 1971. A few years later, DeWitt bought three cows and a bull from Henry Butler, Milby's son. "Other than that, I've just bred 'em mostly," DeWitt said of his 175 head.


Wanted: Horns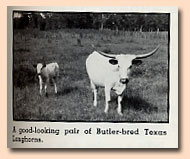 His breeding program is well thought out and firmly in place. He plans to incorporate the blood of some top bulls into his Butler cow herd. His No. 1 sire is Blue Horns, a son of Lone Ranger 72 (no relation to the Phillips' Texas Ranger line) and Freckle Neck.


"Now I'm breeding a son of Classic to my Blue Horns daughters. Then I'm going to come back on those and breed a Jumbo Horns son to them," DeWitt said. "I've got another 10 years in my program to keep the Butler cattle and still not integrate completely between the five bulls that I like real well: Blue Horns, Bevo, Jumbo Horns, Classic and Bold Ruler. I'll have a program that won't be real inbred, between those five bulls and the Butler cows I have now."


The Meshell Farms herd also contains a little Yates and WR blood. "I've got probably three half-Yates and maybe four or five WRs in my Butler herd," DeWitt said, and explained how that came about.


"I love blue roans. I had a half-WR bull whose grandpa was WR 2656, which was an old blue bull. So I bought a blue Yates cow, that's how I wanted to get this blue blood in my herd. And I guess out of probably 10 cows bred, I only got one blue roan out of that bull"


That was the only time DeWitt ever tried to breed for that most elusive Longhorn traits, the color. "Color - I wouldn't even try to think about it," he says now. "I never breed for color. And I never breed for conformation, really. The conformation just about takes care of itself in my cattle. Oh, I wouldn't breed a little 'ol small bull or cow, but I figure my cattle's got good size." Unless conformation in his cattle begins to suffer, which it appears to be far from doing, DeWitt says he won't worry about it.


"I worry about the horns. That's what I concentrate on in my breeding program," he stressed. "I always figured that's the hardest thing to get. Without horns, I don't think you have any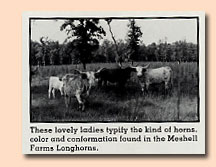 thing. Without the horn on a Longhorn's head, the competition's too great."


DeWitt credits Milby Butler, whom he describes as "a senior and a pro," with teaching him all he knows about breeding Longhorn cattle. "I think just like him. He taught me. He said that you breed for the horns and you'll always get color. It'll pop up. He never did breed for Beauty's color, and look what a beautiful cow she is."


DeWitt has definite standards by which he judges the success of his program. "My breeding program consists of getting horns of over 40 inches early in life - at 3 or 4 years old. And 90 percent of my 2-year-old heifers are over 40 inches."



Nothing will get a heifer bounced from DeWitt's program faster than mediocre horns. "If they turn their horns too early in life, they're culls," he declared. "And I want base. You have to have a base before they'll grow any length. But you almost have to breed for base before you get any length.


"And J.W. Isaacs taught me there was what they call a hollow horn and a hard horn," he continued. "Your hollow horn will grow to have a big horn base, and your hard horn will just be like a little old deer horn - just hard as a piece of rock and it'll never grow to be anything. So I'm watching that now, to see what causes them to have a hard horn that's not got a core in the middle. That's something new I learned in the past two or three years, and I'm culling out the hard horns. They go to the regular sales.


"Most of my bulls go to a regular sale," he added. "Whenever I wean 'em I cull 'em out. You only get a herd sire about every one or two years. A herd sire is very far in between. Blue Horns is a top herd sire that's been breeding with me 10 years. He made me. He got me where I am, becau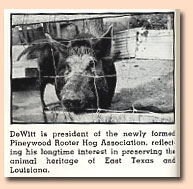 se of the horn growth in the animals he's sired. Jumbo Horns is like a second (herd bull). Red McCombs owns half of him."


Out of every 20 bull calves, DeWitt may keep two that he'll consider for future herd bull status. He wants bulls that will contribute to fast horn growth, naturally, and he prefers blue slate horns. Horn shape is as important to him as horn length. One of the young bulls he's kept, named Dynasty, after the television series, is double-bred for corkscrew horns. Several of the others he's kept have the Texas-twist characteristic.


He's got mature bulls scattered all over the country. "I don't sell 'em, I just let people use 'em," he explained. "I imagine there's probably 20 Blue Horns and Bevo bulls right now that's out scattered all over the country - just loaned out."


DeWitt believes today's typical Longhorn breeder is "buying smarter" than was the case, perhaps years past. "I think right now a cow's gonna sell according to the cow," he said. "A $3,000 cow is going to sell for $3,000. A cow that's a $50,000 cow, she's going to sell for $50,000. In other words, you're not going to see a $3,000 cow selling for $6,000. A cow's going to sell according to her characteristics: certain type horns that people like, certain twists, certain genes, a color, a pretty head, 'crocodile' eyes, a 'fishhook' tail."


"Breeders are getting smarter. The sales have gotten much better, with better cattle.


"And new buyers are getting smarter," he continued. "It's getting to where these cattle that's not fit for sales, that's not fit for a new buyer, they're going to have to go to the commercial sales. And that would just be great. Some of these cattle do not need to be put off on somebody else Just because he's a new breeder starting out, he really doesn't want anything cheap, because it'll take him years to get out of it. He wants to start with something decent, they'll grow into something that's got the purity."


Though he and Evelyn enjoy the sales and make as many of them as time will allow, he prefers to do business privately, "because you can tell a person about your cattle, looking at him right in the eye. When he makes a deal with you, you stick to your bargain and he sticks to his, and he'll get a good cow."


DeWitt offers this advice for the new breeder contemplating his first Longhorn purchase: "I would tell him not to buy anything from the first breeder I went to. Go to four or five different breeders, then pick the one you prefer. Buy your females first and A.I. That would give you time to pick your herd sire. He's 50 percent of your herd. You get one calf a year out of a cow, but you get the whole calf crop out of that bull. He's too important to make a fast decision on. So buy your cows from the breeder of your choice. Then AI."


Hogs and Dogs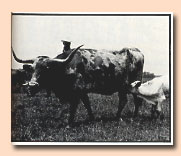 Texas Longhorns get top billing at Meshell Farms, but they're hardly the only four-footed critters on the place. DeWitt is almost as proud of his Pineywood rooter hogs. He's president of the Pineywood Rooter Hog Association, which will have its first show in October in Cleveland, Texas.


Just what is a Pineywood rooter hog? It's essentially the swine version of the native Texas Longhorn.


"There was a Pineywood rooter hog here when there was a Texas Longhorn," DeWitt explained. "They lasted a little bit longer than the Texas Longhorn because they could get wild and hide out. But I could see that they were going extinct, with deer hunters shooting them during deer season, people shooting them out in their pastures.


"So I got together with Wiley Knight from Cleveland and Larry Griggs from Newton, Texas - his daddy's a Texas Pineywood rooter raiser - and we formed an association called the Pineywood Rooter Hog Association. So now we will be nationwide keeping the Pineywood rooter alive."


There are three varieties of Pineywood rooters. The mulefoot has hoofed feet like a Shetland Pony. A second variety has wattles under the chin. A third, extremely rare version has wattles that are blue in color.


DeWitt believes the hogs will make a comeback. They mix well with other hogs, and gain much faster than a regular domestic hog, he says. And "just like Longhorn meat is good for lean beef, your Pineywood rooter is great for lean meat," he said. "I mean, hey are real good eating."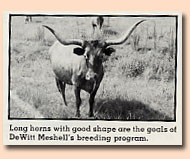 Among DeWitt's other unusual animals are his East Texas bobtail dogs. They are descended from dogs that were used in the country years ago to work hogs.


"When the hogs played out, they trained them to be cow dogs. They were originally in Center, Texas, and that's where I got my stock from years and years ago when I was a kid. I still breed the bobtail dog and I've let friends everywhere have them to keep the stock going


"They're a natural-born bobtail," DeWitt said. "They're a small dog, but they're a lead dog and they've got a lot of wind and heart. In the heat of the day, when you're driving a bunch of cattle as long as you're there." DeWitt works cattle from horseback, and finds the dogs' help invaluable.


This rancher is also proud of the part he's played in protecting the rare black squirrel. He lets no one kill the black squirrels on his farm, and the population in his area is gaining ground. Elsewhere, black squirrels are seldom seen and may be on the verge of dying out.


Less exotic but adding to the wildlife preserve look of Meshell Farms are the cats, ducks, turkeys and guinea fowl that populate the yard. Deer may appear at any moment on the fringes of the pasture, standing motionless for an instant before slipping soundlessly back into the woods. A sighting ill draw an excited "Look there!" from 14-year-old Cherie, youngest of the Meshells' six children.


Cherie is DeWitt's in-house public relations expert. She's compiled a fat photo album of Meshell Farms' prized Texas Longhorns, and cat rattle off every animal's name, pedigree, offspring, and horn length. She often acts as guide when visitors come to see the Longhorns. "She does know the PR part of the ranch,"said her father approvingly. Cherie also runs track at school, regularly winning or placing among the top finishers at every meet she attends.


Her brother Ranch, 16, is DeWitt's right-hand man. "I call all shots, you might say," DeWitt noted, "but he does just about everything to be done. All the hay baling, all the tending to cattle, all the shot giving." When Randy's not ranching, he rodeos. His skill as a bull rider and calf roper is well known throughout the area.


Also at home is 23-year-old Renee, who works at a department store in Groveton. She recently made DeWitt and Evelyn the proud grandparents of a fine baby girl named Jerryetta, who is, needless to say, the center of attention in the Meshell home these days.


The Meshells' middle daughter, Monique, lives in Louisiana with her husband. The eldest, son, 25-year-old Erin, lies and works off the farm, as does Buddy, 21, who's making a career in the Marines.


Daily Chores


DeWitt checks cattle every evening when he gets in from his town job. "Every evening without fail, I'm in that pasture. If I'm sick or have to be gone, then I force somebody to do it for me!"


In the summer, he puts out an 8-8-8 calcium, phosphorous and potassium mineral supplement. In wintertime, he feeds 3-in-1 meal. They raise their own hay, putting up about 400 round bales a year.


"All grandmas - old cows - I feed them soft feed and take special care of them," he added. "There's probably 10 or 12 of those old 20 - to - 24-year-old cows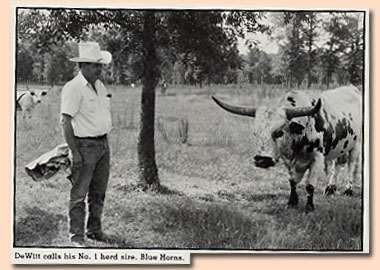 on the place. Any of the original OT cows (purchased from Milby Butler) are 20 or above now."


The OT brand, willed to DeWitt by Butler, is today used only on outstanding, straight Butler cattle. DeWitt may use it on only four or five head a year. As soon as he places that brand on an animal it becomes Evelyn's property, as the OT brand is in her name. DeWitt uses his MF brand predominantly.


Like Milby Butler, DeWitt is reluctant to sell his cattle. If he's not ready to let one go, no amount of persuading or bargaining will make him turn one loose. Each of his animals is an individual, and he takes pride in them all.


"Every cow I've sold, I can just about name her and where she is now," he said. "And I know where just about every Butler cow is that's in the Association, by name and how they got where they are. I study these cattle day and night, and I know where every Longhorn cow that's over 45 inches is. Where there's a cow that's 52 inches, I'm there looking at here. I get pictures of them. I study these cattle and I don't miss a thing."


"And what the other man's got, I'm just as proud he's got her as if it were mine. If a man's got a cow that's 56 inches, I'm just as proud he's got her as I would be if I had her. Because one of these days, I'll get a breeding from her someway. Somewhere down the line I'll get an offspring."


"That's what my plans are. To get some of the best blood from every breeder one of these days, and keep my herd growing."


"DeWitt's passion for keeping on top of new developments in the Longhorn industry led him to a discovery that's got him very excited. He's found a herd of cattle that he believes constitutes a distinct family of Longhorns. They were raised by Grady Woods from cattle he got out of the Sabine River bottoms years ago. DeWitt claims they're a separate bloodline. He bought six mama cows and plans to run a straight Woods bull on them and build up a Woods herd. As far as he can tell, there are at the most only 10 cows and bulls still surviving from Grady Woods' old herd.


"These cattle are just a few in number, but they're not lacking anything," DeWitt said. "They have the Texas-twist and corkscrew horns, the color and the size. They just need somebody to breed them."


After 15 years, DeWitt's enthusiasm for Texas Longhorn cattle is greater than ever. He delights in learning things about his cattle he never knew before. Whether it's finding a cow with 56-inch-horns, or locating a new source of that old-time Longhorn blood, or just spotting a newborn calf scrambling to its feet for that first meal, the thrill of discovery is with him still.


"These cattle are characters," he says of his beloved Longhorns. "Each one has a different personality. You get attached to these cattle. You just have so much to look forward to. Like the calves when they're born, the horns they'll grow, how fast they're going to get horns, are they going to have straight horns or curly horns - these things just keep you enthused day in and day out."