Wiley Knight's family history, like that of many Texans included a major involvement with Longhorn cattle. His great-grandfather, Edward Ezell came to Texas in 1856 and caught wild horses to assist him in capturing the native cattle. Wiley's herd still has some blood descendents of the original family cattle, although today instead of running wild, the Knight cattle are in programs as modern as embryo transfer.

In Wiley's boyhood days, polled bulls were used in that part of east Texas to eradicate the horns which permitted sometimes fatal screw-worm infestations. In 1969, Wiley bought the last Longhorn cow in his father's herd...in Freestone County, (about 3 miles from where Edward (Grand Pap) Ezell settled). After many years of operating various clothing businesses, Wiley and Esther returned to Longhorn cattle ranching. At this time, the Knights operated 3 clothing stores in Cleveland, Texas for Stowe's, Inc. At that time, Wiley bought an old Longhorn cow of that early stock from his father and she produced a heifer for him. The old girl's calves, sired by Longhorn bulls, consistently resembled thoroughbred Longhorns. Wiley's first thought was to breed his existing stock back to being the original true type, not realizing there was a breed association and registry already established. Wiley had acquired a fondness for the Longhorns as they had served as family milk cows on most farms he remembers as a boy.

In 1975, the Knights purchased their first registered Longhorn, with grade ones having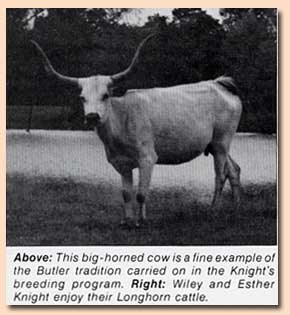 been in the family for generations. The bull was named FM Texan and had been acquired from Blackie Graves. By Sam and out of Miss Dayton, he was the beginning of a herd concentrated in the Butler bloodlines. The next acquisition was a weaning heifer bought through a commercial sale ring. Consigned by Dode Parlow, "Party Girl" is now among the best horned cows on the ranch. Wiley returned to the Parlows for cattle, resulting in the purchase of "Miss Liberty." In 1977, he was able to acquire another two longhorns that Pauline Russell, Milby Butler's secretary, was consigning to a public auction. The Butler pair from the Russells are outstanding animals: Lady Butler and Butler Boy. Those few top females provided the foundation for a herd which now numbers 44 and is still growing. Wiley has no intention of parting with his original cows, planning to keep and improve on them in the future. Before Wiley's father's death, he gave all of his 7 children a female that was a blood descendent of those that his Grandfather Ezell had caught wild. Even though they cannot be registered, Wiley is producing some cattle in his commercial pasture that look like thoroughbred Longhorns.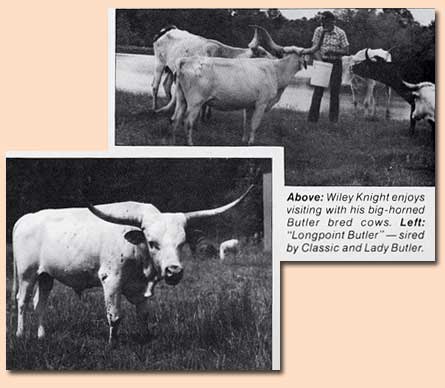 Butler Boy is a full brother to Classic, is herd sire with this impressive group. "Lady Butler" is in embryo transfer at Dickinson Ranch and has produced some superior offspring, among them "Longpoint," an over 48" horned son of Classic. Wiley is most pleased with the embryo program and plans to use it as a tool to build the herd.

Wiley and Ester hope in the future to be able to devote more time of their Longhorn ranching operation in east Texas. Wiley now commutes 31 miles to work in Cleveland daily where he manages three clothing stores. This schedule keeps Wiley and Esther both busy but their Longhorns manage nicely, leaving the Knights little to worry about.

As Wiley says, "The Lord has done good things for us and getting us into the Longhorn business was one of them."